The Patent Office has announced that the Cabinet has approved the Bill to revise the Patent, Design and Trademark laws. The date of entry into force is still unknown, but its overview is now unveiled. The revisions highlights the significant change of the Design law. The major changes of the Design law are to conform to the global standard of design protection system and to ease requirements for design applications.
1. Expansion of the scope of designs subject to protection
The revised law will newly protect graphic images that are not recorded or shown on articles as well as interior and exterior designs of buildings, which are so called trade dress.
2. Review of the Related Design System
Under the current law, related similar design applications have to be filed before the principle design application is published. But, the timing of the applications will be extended to the date before ten years from the filing date of the principle design. In addition, an applicant can file similar designs as the Related Design, even if it is not similar to the principle design, but only similar to some related designs.
3. Change of the duration of design rights
The duration of design right will be extended from 20 years from the registration date to 25 years from the filing date.
4. Multiple designs allowed in one application
International Design applications are allowed to include more than one design in one application. Therefore, national applications will harmonize with the International Design applications. Multiple designs can be included in one design application. Note that the substantive examination and right establishment are made based on each design.
5. Flexibility of design classification
JPO was strict to the design classification. The revised law abolishes the classification table of articles in order to allow an applicant to describe the title of the article in a flexible manner
6. Expansion of the provisions for indirect infringement
The revised law allows design right holders to take down parts served for design infringing products if the parts suppliers is "aware that the given article is used for working the given deign."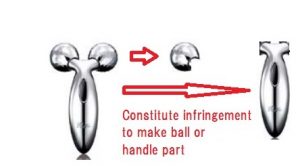 7. Ease of required drawings
The new regulation, to be effected as of May 1, 2019, stipulates that, if an applied for design can be identified by drawings, regardless of the number of drawings to be described, the design is treated as appropriately disclosed.
8. Articles other than designs for protection
The application may include articles unrelated to design protection, provided that it is explained and drawn separately from the design sought for registration precisely.
9. Abolishment of the part design declaration part
The new regulation no longer requests to clarify whether or not it is part design or not.
(April 5, 2019)